Try our NEW

interactive demo...
...it's the perfect way to learn about MoneyPen on YOUR time!
Are you interested in MoneyPen, but would like the chance to take a look at its powerful features on your own time, and at your own pace?
Then our new interactive demo is for you! It provides you with a demonstration on many of MoneyPen's features - from quoting to Digital Job Cards, from Work Requests to Compliance Certificates.
Even better, you're in charge - you choose what you want to learn about, and when you want to learn about it.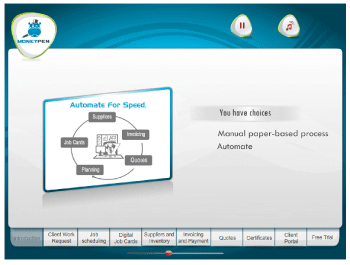 Interested? All you have to do is provide your information on this form, and we'll send you the direct link to the interactive demo IMMEDIATELY.

Client Profile:

Ctrl I.T. Pty Ltd
"Automatically reminding clients of outstanding accounts has saved us thousands of dollars every month"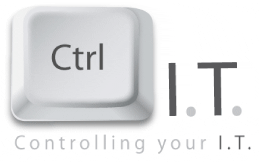 In this month's interview segment, we're talking to Ctrl I.T. They are an Information Technology company, specialising in service, remote and onsite support, hosting solutions, and much more. They have over ten employees, and have been in business for ten years.
Though MoneyPen is primarily aimed at Tradies, they've found the solution to be a perfect fit for their company.
We asked them to answer a few questions on MoneyPen:
Q. What were the central challenges that your company faced before using MoneyPen?
A. We found administration of the company to be painful. Having to duplicate the invoicing process from staff handwriting to typing, and then manually chasing receivables proved a long and expressive task.
Q. How does MoneyPen help you solve those challenges?
A. Automating the invoicing process and automatically reminding clients of outstanding accounts has saved us thousands of dollars every month and lowered our average monthly outstanding receivables by more than 20%.
Ctrl I.T. notes that MoneyPen has allowed them to focus on their clients' problems, rather than having to administer the company. They mention that without MoneyPen, they'd likely have to have 1 to 2 more employees to handle the invoicing, which would really strain their budget.
Q. What was your experience implementing MoneyPen into your business?
A. Rob King and the MoneyPen staff have been extremely fantastic with helping us implement MoneyPen. Rob came out to us to help us with the entire process including training.
Also, as a specialist I.T. company, we have a lot of customization we require which gets addressed in record time.
Q. Any final words on MoneyPen?
A. MoneyPen is like having an Accounts Manager without having to pay for one. Automating invoicing, reminders for late payers, stock management, and quoting facility will help you focus the majority of your time on what really counts: your profession.

Business Tip:

Recruit and Train Your Team.
| | |
| --- | --- |
| | As with Footy, your business is only as good as your team. That's why, in this month's blog, we're going to focus on how to recruit and train your employees. |

MoneyPen:

Questions and Answers
Question: Do I have to enter data via my phone?

Answer: Most people don't like having to fiddle with phones to type text, so MoneyPen avoids using text entry wherever possible. You can perform almost all tasks by clicking a link or selecting from a menu. It's simple and designed for those who don't use phones for SMS or Internet access.