See all the ways

MoneyPen can save you time with our INTERACTIVE DEMO.
MoneyPen is a very powerful system that saves you time in many aspects of your business. If you'd like to get a visual demonstration, then we have the perfect thing for you: our INTERACTIVE DEMO.
You'll get the full rundown on MoneyPen, from quoting to Digital Job Cards, Work Requests to Compliance Certificates.
Even better, you're in charge - you choose what you want to learn about, and when you want to learn about it.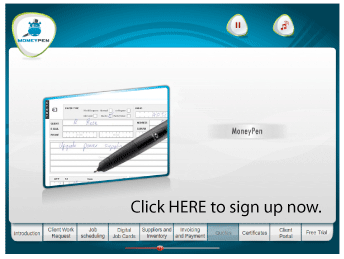 Starting the demo is easy - all you have to do is fill out this simple form, and we'll send you the link directly.


Client Profile:

Web Rich Results

In our client profile, we highlight companies who are using MoneyPen, and ask them how they use it and how it's working for them.
This month, we're interviewing Steve Holloway of Web Rich Results, an Internet Marketing and Website Design company. While MoneyPen is designed for tradies, Steve has found the system to be the perfect match for his business needs.
Steve has been in business for 15 years, and has 4 full-time employees, along with a global network of specialist providers.
Steve found that it was getting very difficult for his business to track job requests from clients, and finding the time to invoice. MoneyPen was a great solution for this problem:
Steve: Moneypen's invoicing component helped us to manage the money more effectively by putting it on autopilot to collect - emails go out automatically.
Plus, now clients can email a job request in and all requests are in one central area for fast implementation!
In terms of the most significant benefits of MoneyPen, Steve lists his top four:
Automation to save time - We no longer have to find time to follow up on invoices, the system does it for us. We are a busy unit with many client requests and couldn't get time to do this valuable task, now we get it done every time, on time - the system never fails us while we continue to work on more money making tasks. This alone has seriously improved cash flow! It's also great when a client calls and wants a copy of invoice or a statement they have lost, it saves so much time because everything is in one place and automated.


All job requests in one area for easier management - No more lost notes, remembering telephone conversations or team members forgetting. They are now trapped in one place! By using this MoneyPen feature, we were able to offer clients better service plus they see us as more professional with a class system in place and in our business it is crucial.


Digital Pen facility - Even though this is not what attracted us originally, it has become a real benefit. When visiting with clients, we make notes on everything discussed and send it back to our system, it's all there when we want it - no more looking for notes, relying on memory - it's all there to refer to when you get back to the office. Everything is organised in one place!


Sending quotes and following up - With standard documents we created, this is now a breeze. We send a lot of quotations and with having everything in one system we are able to manage quotes more effectively and immediately turn them into work requests, all at the click of a button.
Steve reports that implementation of the MoneyPen system was fairly easy, with "exceptional" support provided by the MoneyPen team.
In terms of how Steve would recommend MoneyPen:
Steve: The first thing I would say is it is a system that will streamline your business for growth.
Second, it creates an even more professional image with your customers at low investment.
And third, it is a system to save massive time and leverage yourself to do more profitable things for your business, it provides a process driven system to help make your business run smoother and more effectively, and most important it collects money faster than any human and doesn't get sick or take holidays.

Business Tip:

Recruit and Train Your Team - Part 2
| | |
| --- | --- |
| | This month, we're providing part 2 of our tips and tricks on how to recruit and train your team. Having people who fully understand your company, and your expectations of them, is the key to a successful business. |

MoneyPen Tips and Tricks:

Managing Recurring Work for Routine Maintenance
You may have your eyes glued to the footy, but MoneyPen is watching over those clients that need to be reminded about safety or maintenance checks. Even better, MoneyPen will manage automated pre-payment for service contracts - so even as the final siren sounds your clients are being invoiced.

Want to learn more? Then check out our quick video giving you a full look at how MoneyPen handles routine maintenance.

MoneyPen:

Questions and Answers
Question: What are the setup costs?

Answer: There are no setup costs for MoneyPen. Purchase a MoneyBox and you will have all you need to get started, including 100% free training and support.
---
To view past issues of our newsletter, please click here.
---